Christ, why have I only just heard of Factory Floor today??
So many lost opportunities to go and get throughly destroyed by this mind blowing band.
I dare you to watch this whole video without having a nervous breakdown. (I did it while in my little cubicle in the office at work, surreal).
Posted Jan 22, 07:00 AM | By Melissa |
Share this: del.icio.us Digg Technorati Newsvine Reddit Netscape StumbleUpon Google Bookmarks TwitThis
---
This band played at the last ever Club Milk at the Rat Star, 2010. I didn't make it to that show, but afterwards my friends were buzzing about how great Skinny Girl Diet were.
Their fuzzy, bass-heavy sound is surprisingly old school, songs such as "Forget You" sounding like a Heaven's to Betsy song reconfigured for the future. This is mixed with raw, youthful vocals and a band name that sounds like the kind of sneering you'd expect from a young Polystyrene or Ari Up, though this music is more menacing and grungey than the bands the latter two were famous for.
Hope they play again soon, so I can see them live, but in the meantime, a video…

SKINNY GIRL DIET debut gig stags head '09

Skinny Girl Diet | Myspace Music Videos
Posted Jan 15, 01:36 AM | By Melissa |
Share this: del.icio.us Digg Technorati Newsvine Reddit Netscape StumbleUpon Google Bookmarks TwitThis
---
A week on, the excitement of MIA's show at the Brixton Academy hasn't dulled at all, and after reading an irritating interview in the Guardian with her, I feel like I need to hurry up and say something about it all.
One of the things that frustrated me so much about the Guardian interview is something that always seems to come up when people write stuff about MIA; they like to imply that she's confused, that she is contradictory, maybe is lying about stuff, and that she's a bit of a brat.
Part of why I love MIA so much is due to her so called "contradictions", which resonate with me and with the life that I have lived. Not one growing up on London's mean streets, or having parents possibly affiliated with the Tamil tigers or making Elastica's album covers or anything exciting that. More just my experience of being mixed race, being queer, being born in New Zealand, having parents who weren't born in NZ, moving to London, and, consequently also being made to feel contradictory and rootless in so many ways, good and bad.
People want MIA to fit neatly into all the many little boxes they've made for her. They want to show her up as a fake. But she's not confused, people, this is actually the way her life is, and she's lived it for 35 years, so I'm pretty sure she damn well knows who she is, and how she feels about things; she's just presenting them to you in a way you don't understand. Her identity just can't be neat and tidy. She's not going to give you what you want, if what you want is a strightforward answer.
Ultimately, like she says in this interview, she's a punk, far more punk than many of the other self-proclaimed punk musicians around at the moment, cos she spends her time messing with people's pre-conceived notions, shocking them, and, most importantly, doing what she wants. She's like Ari Up & Missy Elliott and all those other female & queer musicians who defy expections. And for once she's south Asian too, damn, that's hott.
I love MIA because she's the first musician that I could actually look at and think, she kind of looks like me, or my cousins or my sister, it seems possible we could've been her in another life. I've never felt like that about Deborah Harry for example. I love her music, because it brings full circle the music I listened to growing up, and what I listen to now. I love her videos, especially Bird Flu , because not only are they visually stunning, she also presents people on the screen who are very rarely on the screen in the context of a music video.
So, her show. Total genius. The first 15 mins had a young woman on the decks, who at first I thought was MIA because they looked so similar in silhouette against the backdrop, but turns out it wasn't. She commanded the crowd until MIA appeared on stage with her dancers and the background exploded in a digital onslaught of colour. Her set was an almost perfectly balanced mixture of her 3 albums, the usual situation of the new songs kinda boring you was totally not the case with this show. I listened with a new appreciation to "Born Free", off her latest album; without the distraction of that intense video, the song really comes into its own.
I find her most recent album more chilling, more robotic and less human than the other 2, (by which I mean, great). Coupled with her onstage visuals which included a maze-like screensaver made up of millions of mesmerizing Captchas, chaotically flickering neon lights spelling out the album's title above the stage, and the audience being projected onto the backdrop, their faces being overlapped by the anonymous Facebook profile picture, the show was occasionally creepy in a totally awesome way; she shows up the way in which the "human" & "the internet" have become so inseperably intertwined.
In saying that though, pulling half the crowd up on stage for the third song ("Boyz") was a very warm way to start the show, it made clear that MIA's main agenda was to have a party (and break the rules, of course). And she certainly crowd pleased, ending the night with "Paper Planes". What can I say, she is full of contradictions.
I never imagined I'd be lucky enough to actually be in London listening to her make that call to arms:"London, quiet down I need to make a sound". But I was, and it was truely one of the gigs of my life.
Posted Nov 20, 07:03 AM | By Melissa |
Share this: del.icio.us Digg Technorati Newsvine Reddit Netscape StumbleUpon Google Bookmarks TwitThis
---
Just looking around the internet on my break at work today, I discovered this post by Tobi Vail regarding the book that's just come out called Fanzines by Prof Teal Triggs of the London College of Communication.
I actually saw this book in Rough Trade the other day, and considered it as a gift for someone, but after flicking through it, I felt pretty bored by it, it was just covers of zines past and present…kind of felt a bit dead on the page without more context and writing about the zine creators and their zines. Well now, I'm really glad I didn't buy it, not only after reading Tobi's post about it, but also Hello Amber's, which was extremely articulate while also being very heartfelt.
Basically Prof. Triggs has used a whole bunch of zine covers without permission, and only contacted the makers after the book was published. And in Amber's case, she got a lot of important stuff wrong, including her name, because she made no effort to contact her before using her work. I mean, come on! people in the DIY scene are actually PEOPLE with lives and feelings and suchlike, and a good working knowledge of their rights which privileged others are quick to take away because they think it doesn't matter.
I'm so tired of hearing about people who do DIY stuff getting ripped off, misquoted or taken for granted. People who use and abuse squatted spaces, or get all huffy when the people who've put the effort into keep the space going don't have the newest flashest equipment for their little "punk" event, or who trash the place, or complain about stuff in general. Or take photos/film events in squats without permission of the organisers, cos it's "just" a squat event, without thought for the kind of troubles they could be causing. People who just think they can photocopy people's zines and put them in a book and make friggin MONEY off it without asking their permission first. That's the thing that pisses me off, people who make MONEY and take CREDIT for stuff that other people have put their heart and soul into.
This is not a rant about copyright, that's not the point.
The point is more privileged people, i.e friggin professors at London Colleges who do this kind of thing for their own reputations or advancement.
When I used to run a queer feminist comic book shop with my friend Tui in Auckland (it's still going by the way – Cherry Bomb Comics), we'd always be in need of volunteers & helpers; it was a not-for-profit store, which we juggled along with our part time jobs. We had loads of help from amazing friends and the community we were in and we totally did it for the love, despite the fact it was difficult – no one was forcing us to, we wanted to. But what annoyed me was that occasionally we'd get art school kids in who wanted to use the store to off load their 1 and only zine that they'd made for school, or film/write about events in our "quirky little shop" for credit. And kind of imply they'd help us out in various ways, and then obviously once they'd got their credits/degrees etc, they disappeared into the ether. What is that about?
I noticed a while ago 56a info shop has a very blunt and pointed message to journalists & students who want to interview them about their volunteer work there, to make their articles or projects or studies seem "cool" or "edgy" (scroll to the bottom of their page). The message is a little harsh, but also quite fair, people seem to think you're gonna bend over backwards to have your "weird life" promoted in their mainstream book/magazine, and have no intention of actually understanding the world where you and your work & art & words are coming from. It's not a lifestyle choice, it's our life!
I wonder what people think about the fact that Ladyfest Ten in London could potentially cost them £75 if they wanted to do everything that was on offer that weekend? That's far more expensive than any Ladyfest I've ever been to. Odd, considering London has a wealth of free/cheap venues that other promoters seem to find to put their events on. I don't buy the criticism that putting events on in these kinds of venues (i.e squats and the like) makes the event inaccessible and cliquey or privileged. I think making tickets expensive does that.
Ok, enough ranting.
Posted Nov 3, 02:03 AM | By Melissa |
Share this: del.icio.us Digg Technorati Newsvine Reddit Netscape StumbleUpon Google Bookmarks TwitThis
---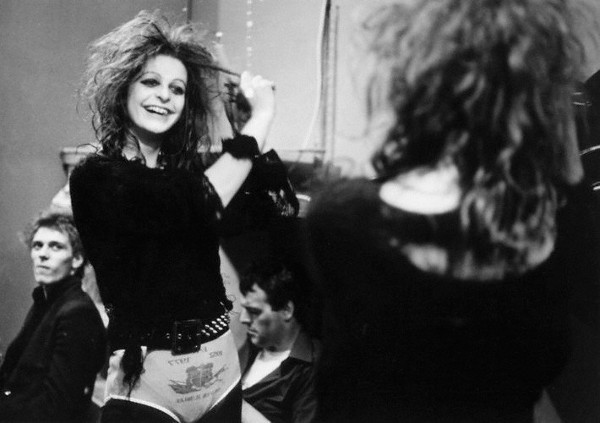 I haven't allowed myself to think about the fact that Ari Up is dead properly til tonight, just over a week after her death on October 20th.
Now I'm in my bedroom on a rainy Autumn Friday night, about to be evicted from my third flat in my two years in London, listening to the Peel Sessions, and thinking that despite the fact that the trials and tribulations of London seem to be winning at the moment, I wouldn't want to be anywhere else, and that Ari Up and the Slits are part of the reason why I'm here; I walk around this city with their songs as a soundtrack in my head a lot of the time.
"Typical Girls…don't create, don't rebel. Who invented the Typical Girl?". I've had a stressful month or so, not feeling very confident about my choices in life, and what I'm doing. Just listening to that song reminds me that I'm on the right track.
I've already done at least two posts about the Slits on this blog, see here for romantic musings/review of the Slits book by Zoe Street Howe, and here for a review of the mind blowing one-time-only show the Slits played in Auckland, NZ in 2007.
The Slits were the topic of the one and only zine I've ever done (Adventures Close to Home). I was so obsessed and inspired by them I carefully documented every fragmented detail that I could find, and took at least a year to make the zine. I was disappointed with the result to say the least, but it is hard to capture that unbelievable feeling a band like the Slits can give you when they first come into your life. I kind of wish I'd just kept my obsession to myself, but oh well.
Ari Up was the orginal rebel. She was a freak til the very end, and I doubt there is anyone to compare to her. After seeing her live in 2007, I realised that she was the real deal. she wasn't trying to please anyone except herself (and not in an asshole way, she was so kind and amazing with the crowd that night). What more could a girl ever aspire to be?
Her ad-libs in the Slits songs often made an amazing song actually perfect. Who could forget the "I pissed my knickers" line at the end of "Shoplifting", or "I forgot the words now…" on Love und Romance. She came across as un-selfconscious, brave, extreme.
But I don't mean to overshadow the Slits' music with Ari's public personality. What would '70s punk have been without The Slits? And let's not forget, they were one of the foremost pioneers of dub-by funky, post punk experimentalism. While I'm definitely more of a fan of their earlier recordings, their influence and importance on that genre of music is obvious. And I admire Ari Up, and for that matter the rest of the band for always hammering it home in interviews that the Slits were an overlooked band, because they were women, because they weren't taken seriously, because they were wild. Why shouldn't it be said? The Slits were an amazing band musically, they were feminist pioneers (despite the fact that earlier in their careers they distanced themselves from that political stance), and a lot of great things today wouldn't exist without them.
What is the world without Ari Up? She's someone that I've never imagined dying. I suppose partly it's cos she was so young, and hardly anyone even knew she was sick. It's hard to take in, and I still feel really shocked by it. I feel like I need to do more to mark her death. She inspired so much of everything I care about in the world, in terms of music and queer/girl/diy/punk culture. Who would I be without Ari Up? It's an interesting thing to ponder.
At this time, with the Torys sweeping in and effectively ghettoising and killing anyone not brought up with a public school education and a silver spoon, and in NZ our own conservative Prime Minister smiling and joking benevolently with all the racist talking heads in the media, I feel that the Slits song "Number 1 Enemy" best expresses my views:
"You sit up there deciding my future, what the fuck do you think you are? Changing buses, raising taxes, doing things as you please. You want me to be part of it, like all the people did, you want to swallow me, but you might get indigestion. I'm gonna be your number 1 enemy, oh for the hell of it, I'm gonna be your number 1 enemy, oh for the hell of it. Give me 10 and I'll take 100 give me 100 I'll take 1000 never mind what you say never mind what people think. Don't try to be nice to me cos I'm your enemy, don't be inflexible cos I'm gonna kill. Cos I'm gonna be your number 1 enemy, oh for the hell of it. I'm gonna be your number 1 enemy, oh for the hell of it. If you like white, I'll be black, if you like black I'll be yellow, if you like rational I'll be impossible, if you like reasonable I'll be insane, if you like peace and flowers I'M GONNA CARRY KNIVES AND CHAINS. I'm gonna be your number 1 enemy for the hell of it, I'm gonna be your number 1 enemy OH FOR THE HELL OF IT."
RIP Ari Up, your contribution to the world can never be overstated. The original rebel punk.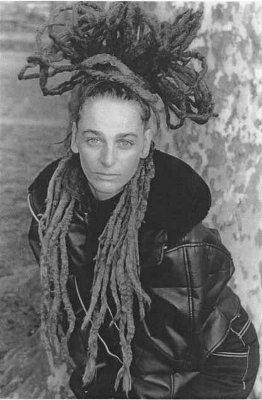 Posted Oct 30, 11:38 AM | By Melissa |
Share this: del.icio.us Digg Technorati Newsvine Reddit Netscape StumbleUpon Google Bookmarks TwitThis
---