Christ, why have I only just heard of Factory Floor today??
So many lost opportunities to go and get throughly destroyed by this mind blowing band.
I dare you to watch this whole video without having a nervous breakdown. (I did it while in my little cubicle in the office at work, surreal).
Posted Jan 22, 06:00 am | By Melissa |
Share this: del.icio.us Digg Technorati Newsvine Reddit Netscape StumbleUpon Google Bookmarks TwitThis
---
This band played at the last ever Club Milk at the Rat Star, 2010. I didn't make it to that show, but afterwards my friends were buzzing about how great Skinny Girl Diet were.
Their fuzzy, bass-heavy sound is surprisingly old school, songs such as "Forget You" sounding like a Heaven's to Betsy song reconfigured for the future. This is mixed with raw, youthful vocals and a band name that sounds like the kind of sneering you'd expect from a young Polystyrene or Ari Up, though this music is more menacing and grungey than the bands the latter two were famous for.
Hope they play again soon, so I can see them live, but in the meantime, a video…

SKINNY GIRL DIET debut gig stags head '09

Skinny Girl Diet | Myspace Music Videos
Posted Jan 15, 12:36 am | By Melissa |
Share this: del.icio.us Digg Technorati Newsvine Reddit Netscape StumbleUpon Google Bookmarks TwitThis
---
A week on, the excitement of MIA's show at the Brixton Academy hasn't dulled at all, and after reading an irritating interview in the Guardian with her, I feel like I need to hurry up and say something about it all.
One of the things that frustrated me so much about the Guardian interview is something that always seems to come up when people write stuff about MIA; they like to imply that she's confused, that she is contradictory, maybe is lying about stuff, and that she's a bit of a brat.
Part of why I love MIA so much is due to her so called "contradictions", which resonate with me and with the life that I have lived. Not one growing up on London's mean streets, or having parents possibly affiliated with the Tamil tigers or making Elastica's album covers or anything exciting that. More just my experience of being mixed race, being queer, being born in New Zealand, having parents who weren't born in NZ, moving to London, and, consequently also being made to feel contradictory and rootless in so many ways, good and bad.
People want MIA to fit neatly into all the many little boxes they've made for her. They want to show her up as a fake. But she's not confused, people, this is actually the way her life is, and she's lived it for 35 years, so I'm pretty sure she damn well knows who she is, and how she feels about things; she's just presenting them to you in a way you don't understand. Her identity just can't be neat and tidy. She's not going to give you what you want, if what you want is a strightforward answer.
Ultimately, like she says in this interview, she's a punk, far more punk than many of the other self-proclaimed punk musicians around at the moment, cos she spends her time messing with people's pre-conceived notions, shocking them, and, most importantly, doing what she wants. She's like Ari Up & Missy Elliott and all those other female & queer musicians who defy expections. And for once she's south Asian too, damn, that's hott.
I love MIA because she's the first musician that I could actually look at and think, she kind of looks like me, or my cousins or my sister, it seems possible we could've been her in another life. I've never felt like that about Deborah Harry for example. I love her music, because it brings full circle the music I listened to growing up, and what I listen to now. I love her videos, especially Bird Flu , because not only are they visually stunning, she also presents people on the screen who are very rarely on the screen in the context of a music video.
So, her show. Total genius. The first 15 mins had a young woman on the decks, who at first I thought was MIA because they looked so similar in silhouette against the backdrop, but turns out it wasn't. She commanded the crowd until MIA appeared on stage with her dancers and the background exploded in a digital onslaught of colour. Her set was an almost perfectly balanced mixture of her 3 albums, the usual situation of the new songs kinda boring you was totally not the case with this show. I listened with a new appreciation to "Born Free", off her latest album; without the distraction of that intense video, the song really comes into its own.
I find her most recent album more chilling, more robotic and less human than the other 2, (by which I mean, great). Coupled with her onstage visuals which included a maze-like screensaver made up of millions of mesmerizing Captchas, chaotically flickering neon lights spelling out the album's title above the stage, and the audience being projected onto the backdrop, their faces being overlapped by the anonymous Facebook profile picture, the show was occasionally creepy in a totally awesome way; she shows up the way in which the "human" & "the internet" have become so inseperably intertwined.
In saying that though, pulling half the crowd up on stage for the third song ("Boyz") was a very warm way to start the show, it made clear that MIA's main agenda was to have a party (and break the rules, of course). And she certainly crowd pleased, ending the night with "Paper Planes". What can I say, she is full of contradictions.
I never imagined I'd be lucky enough to actually be in London listening to her make that call to arms:"London, quiet down I need to make a sound". But I was, and it was truely one of the gigs of my life.
Posted Nov 20, 06:03 am | By Melissa |
Share this: del.icio.us Digg Technorati Newsvine Reddit Netscape StumbleUpon Google Bookmarks TwitThis
---
I discovered that Upset the Rhythm made a video at the Younger Lovers show I put on with my friend Len last month.
I just wanted to point out that contrary to what the blurb at the bottom of the video says, it wasn't at a "London House Party", rather, we were very generously given use of the Dewdrop Squat in Battersea by the people who live there & run the space.
Generally the Dewdrop hosts punk benefit shows and the like, and they've been running the space for a couple of years now. I wanted to give credit where credit's due, cos squatting a space like this isn't easy (especially nowadays) and Len and me wanna say THANKS to the punx at the Dewdrop for letting us do this gig. Also thanks heaps to all our friends who helped us by cooking food, running the bar, DJing til the wee hours, and dancing and generally made the show amazing. DIY or DIE.
And obvs, thanks so much to Michal Local Kid for giving us the chance to put them on, so much fun!!!
Upset The Rhythm TV Episode #2: The Younger Lovers from Charles Chintzer Lai on Vimeo.
Posted Aug 4, 12:22 pm | By Melissa |
Share this: del.icio.us Digg Technorati Newsvine Reddit Netscape StumbleUpon Google Bookmarks TwitThis
---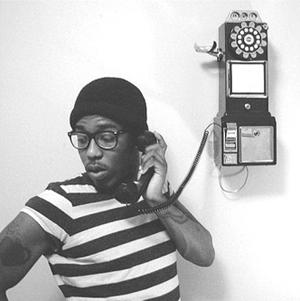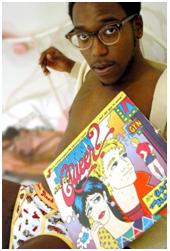 Saturday 10th July @ the Dew Drop, London, 8pm £5
The Younger Lovers with support from The Bumblebees and The Ethical Debating Society, with DJs including a set by Woolf + Zines + vegan food & cakes. Queer punk DIY fun!
The Dew Drop, 58 Stewarts Road, London SW8 4DE
Buses: P5 and N87, nearest overland Wandsworth
The Younger Lovers is fronted by Brontez Purnell, formerly of Gravy Train!!!!, and creator of Fag School zine, as well as current columnist for Maximum RocknRoll.
As well as being a musician and a dancer and probably many other things, Brontez is a writer. I love reading his pieces in zines like Shotgun Seamstress and Maximum RocknRoll, partly because he's just so damn uncompromising in terms of his personality, his politics and his opinions. Plus he's smart and passionate. I'm totally into passionately written pieces. I hate reading things which, while sound in their politics, are just so wrapped up in "how" they're written, or what words they're choosing that it's just kind of dead on the page, and barely creates a spark in me. Brontez probably wants this issue to be done and dusted now, but I just have to post this link which I found one time while looking stuff up about him. His response to a situation in which a member of the band Black Lips was racist, is amazing. It's interesting to read the comments that come after it too, the first one implying that the grammer and spelling is wrong. Oh god. Typical come back whenever someone of colour or a queer or feminist or whatever has a completely justified, passionate rant. That kind of "your grammer was wrong" argument is just like a bloodless fish to me, where's your goddamn pulse, mate?
Anyway, The Younger Lovers is a garage punk band, with a kind of retro sound, like, I want to say 60s girl group, but don't really know why. The Newest Romantic LP was recently released, which features great songs such as:
The Younger Lovers – Kiss me on the Bus
which just make you feel happy to be queer, and you can hold hands with your friends, sauntering down the summer street listening to it.
The Younger Lovers is gonna be amazing, I can't wait.
QueerPunxOfColour 4everxxx
Posted Jun 30, 11:24 pm | By Melissa |
Share this: del.icio.us Digg Technorati Newsvine Reddit Netscape StumbleUpon Google Bookmarks TwitThis
---