And now I'm excited, cos I just watched a couple of videos and I think that rather than the slightly twee, cutely nostalgic show that I thought I was gonna get, (admittedly after having listened to only a skant few songs), I reckon going to be more like some sort of intense, goth/garage/60s pop fusion…Er, ok, that sounds like a really lazy description, but I guess what I mean I was quite taken aback by the look of the band, particularly Dee Dee, the founder and original solo member of the DDG, cos she reminds me more of Mary Timony, rather than the expected drifty-garage-overworn white tshirt-&-blue jeans person, or floaty floral dress girl, all of whom I am a bit sick of looking at. Don't get me wrong, these days I really love the Vivian Girls, but you know I can't go past a band with a bit of darkness hanging around.
Speaking of MT, funnily enough, I kept seeing this picture of Dee Dee: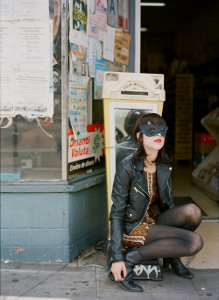 which I could've sworn was a picture of Mary Timony. I didn't understand why it kept being used in Dum Dum Girls articles, so then I googled Mary Timony, and realised that I was actually thinking of this picture: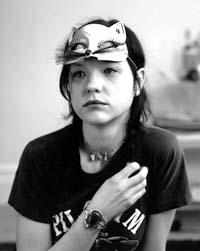 No, I don't really know how I made that mistake either.
I have so far come across the Dum Dum Girls being described as a mashing together of the Bangles & the Cure, and the Shangri-Las and the Jesus and Mary Chain. I'll give my own verdict in a couple of days.
Meanwhile, have a look at these clips on Tobi Vail's Jigsaw Underground blog.
Posted Feb 26, 03:55 AM | By Melissa |
Share this: del.icio.us Digg Technorati Newsvine Reddit Netscape StumbleUpon Google Bookmarks TwitThis
---
MIA's new album is meant coming out mid-this year…Here's a new video which she recently posted on her Twitter.
MIA – There's a Space for Ol Dat I See
Posted Jan 15, 05:14 AM | By Melissa |
Share this: del.icio.us Digg Technorati Newsvine Reddit Netscape StumbleUpon Google Bookmarks TwitThis
---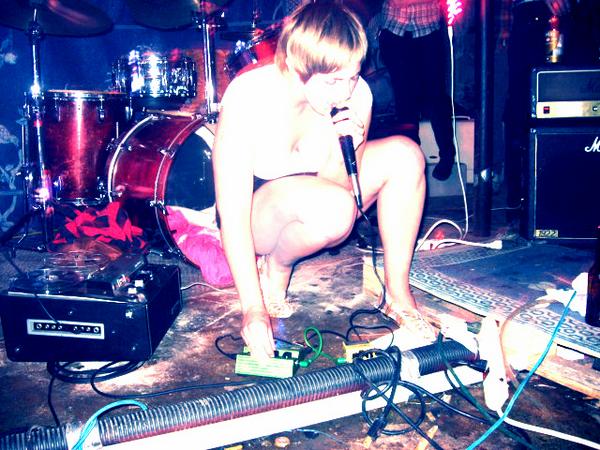 U.S. Girls, who is Megan Remy from the US, don't know much else but it's damn good www.myspace.comusgirlsss & Slitbreeze. Tell me more if you know it.
oh, and she's playing in London 1 March @ Cafe Oto
Posted Jan 4, 07:50 AM | By Melissa |
Share this: del.icio.us Digg Technorati Newsvine Reddit Netscape StumbleUpon Google Bookmarks TwitThis
---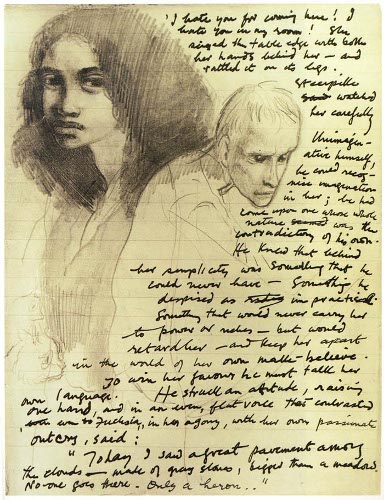 (illustration by Mervyn Peake)
I love it when the world seems tied together in a series of tangled knots.
About this time last year I started listening to the album Faith by the Cure. It's now one of my favourite albums of all time.
I liked the Cure before, but I had always limited myself to the more poppy tracks, "Lovecats", "Close to Me", "Friday I'm in Love" etc. I liked these songs, but it was never clear to me why the Cure were counted as goth heroes alongside Bauhaus, Siouxsie & the Banshees, Joy Division and such like, as their sound was so different. I was too lazy to really ever look into it because I was never particularly blown away by these pop songs, generally coming across them at friends' houses who would often put the Cure on for nostalgia's sake, and with a rueful smile on their face. I guess you could say I listened to the Cure through the lens of other people's nostalgia, and it never really had much to do with me.
Faith is something else. Why did no one ever tell me about Faith? Why do I continually come upon these holes in my knowledge? (though, I'm quite glad I do, because it always makes me realise that I will never get to the bottom of the barrel, even when I'm going backwards in time).
Faith is an unbelieveable album. Often described as being the 2nd in the Cure's dark trilogy (beginning with Seventeen Seconds and ending with Pornography), the tracks on this album are about as far away as you can get from the flippant, skittish "Lovecats". It's depressing, it's heavy on the bass, the cold, distant drums and lonely lyrics. My skin crawls (in a good way) from the first track to the last.
The album was released in 1981, the same year as Siouxsie & the Banshees' Juju, and the genre of goth was in full flight. The album came out of a period of confusion, heavy drug use and general nihilism for the band, and would come as a surprise for any one raised on a diet of the Cure's lighter tracks, but it seems that this is the charm of the Cure; they lure you in with sweetness, and then take away all hope, leaving pure desolation, only to charm their way back in again.
Anyway, the co-incidence that i referred to at the beginning lay in the fact that I finally started the novel Titus Groan, the first book in the Gormenghast trilogy by Mervyn Peake, a few months ago. I have been meaning to read this book for over a decade, after discovering the (children's) book, Boy In Darkness, which was a shorter story featuring some of the characters of Gormenghast, and it was one of the most unsettling, melancholic things I had ever read. I had been putting Gormenghast off until now, because the text is so dense, and there never seemed to be a right time. Consider this, just one line from the first page of the book, describing the castle of Gormenghast:
"This tower, patched unevenly with black ivy, arose like a mutilated finger from among the fists of knuckled masonry and pointed blasphemously at heaven. At night the owls made of it an echoing throat; by day it stood voiceless and cast its long shadow".
It's beautiful, atmospheric, utterly intricate & every word perfect, however, not really the kind of book you read on the tube.
When I was about half way through the first book of the trilogy, I discovered that the lyrics of "Drowning Man" off Faith are taken from a chapter in Gormenghast (and when I discovered this, it was a vague plot spoiler, as it describes the suicide of one of the main characters, I think, but I haven't got to that bit yet). Though this track is the only one that is directly attributed to the book, reading the lyrics of the other songs on the album, I would imagine that a lot of Faith, in mood if not in literal words, was inspired by Gormenghast, and this pleases me more than I can tell you.
An aside, as a New Zealander, I was interested to discover that two tracks by Split Enz were also inspired by Gormenghast, "Titus" and "Stranger than Fiction ", as was a lot of the album Spellbound.
The person who I have to thank for the discovery of this amazing album knows who they are. It always sounds best with you x
The Cure – Drowning Man (2005)
She stands twelve feet above the flood
She stares
Alone
Across the water
The loneliness grows and slowly
Fills her frozen body
Sliding downwards
One by one her senses die
The memories fade
And leave her eyes
Still seeing worlds that never were
And one by one the bright birds leave her …
Starting at the violent sound
She tries to turn
But final
Noiseless
Slips and strikes her soft dark head
The water bows
Receives her
And drowns her at its ease
Drowns her at its ease
I would have left the world all bleeding
Could I only help you love
The fleeting shapes
So many years ago
So young and beautiful and brave
Everything was true
It couldn't be a story
I wish it was all true
I wish it couldn't be a story
The words all left me
Lifeless
Hoping
Breathing like the drowning man
Oh Fucshia
You leave me
Breathing like the drowning man
Breathing like the drowning man
Posted Dec 6, 02:52 AM | By Melissa |
Share this: del.icio.us Digg Technorati Newsvine Reddit Netscape StumbleUpon Google Bookmarks TwitThis
---
Parallel Dance Ensemble's single "Weight Watchers" feat. Coco Solid and Bobbi Soxx. Ism Records. Directed by Lisa Dunn. Editors: Yaser Naser and Morten Leirkjaer. Producers: Gilly Luxton and Mel Whyte. DOP: Neal Wagstaff. Makeup: Riki Anderson.
Posted Sep 11, 12:52 PM | By Melissa | [2]
Share this: del.icio.us Digg Technorati Newsvine Reddit Netscape StumbleUpon Google Bookmarks TwitThis
---