And now I'm excited, cos I just watched a couple of videos and I think that rather than the slightly twee, cutely nostalgic show that I thought I was gonna get, (admittedly after having listened to only a skant few songs), I reckon going to be more like some sort of intense, goth/garage/60s pop fusion…Er, ok, that sounds like a really lazy description, but I guess what I mean I was quite taken aback by the look of the band, particularly Dee Dee, the founder and original solo member of the DDG, cos she reminds me more of Mary Timony, rather than the expected drifty-garage-overworn white tshirt-&-blue jeans person, or floaty floral dress girl, all of whom I am a bit sick of looking at. Don't get me wrong, these days I really love the Vivian Girls, but you know I can't go past a band with a bit of darkness hanging around.
Speaking of MT, funnily enough, I kept seeing this picture of Dee Dee: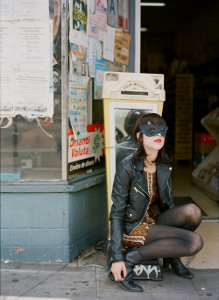 which I could've sworn was a picture of Mary Timony. I didn't understand why it kept being used in Dum Dum Girls articles, so then I googled Mary Timony, and realised that I was actually thinking of this picture: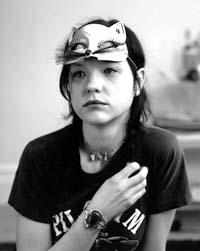 No, I don't really know how I made that mistake either.
I have so far come across the Dum Dum Girls being described as a mashing together of the Bangles & the Cure, and the Shangri-Las and the Jesus and Mary Chain. I'll give my own verdict in a couple of days.
Meanwhile, have a look at these clips on Tobi Vail's Jigsaw Underground blog.
Posted Feb 26, 02:55 AM | By Melissa |
Share this: del.icio.us Digg Technorati Newsvine Reddit Netscape StumbleUpon Google Bookmarks TwitThis
---