I just noticed I forgot to post the link to the show Melissa did on Fleet FM last Friday! You can listen to it here!
After the last one I posted, I had a couple of people tell me they had trouble listening to it — if you click on the link it should play in your browser, but if you want to download it to your computer just right click on the link and choose to save the mp3 to your computer.
There are the songs that Melissa played:
Cobra Killer – Six Secs
Les Georges Leningrad- Georges Five
Comanechi – Tea Bags
Free Kitten – Proper Band
The Trip – Help Me
Spider & the Webs – Do you Really Wanna?
Jenny Hoyston – I don't need 'em
Paradise Island – Monster Boogie
Electralane – The Invisible Dog
Vile Vile Creatures – Faux Feminism
Sound Laydee- Don't Stay Inside
Slits – Shoplifting
The Rotters – Japanese Punk
MIA – 20 Dollar
Chicks on Speed – Kaltes Klares Wasser
Love of Diagrams – Pace or the Patience
Slant 6 – Babydoll
Voodoo Queens – Princess of the Voodoo Beat
Kim Carnes – Bette Davis Eyes
Liliput – Terrified
Crass – Systematic Death
Posted Jan 17, 12:04 AM | By Katie |
Share this: del.icio.us Digg Technorati Newsvine Reddit Netscape StumbleUpon Google Bookmarks TwitThis
---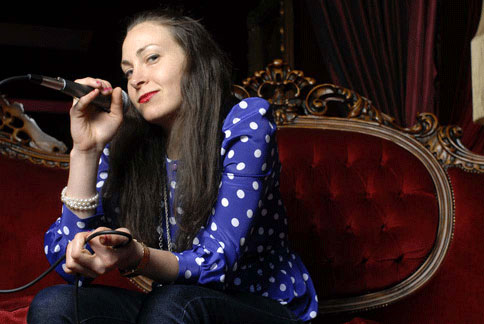 I've been meaning to write about Macromantics for a really long time, but have never felt like anything I write about her would do her justice or explain to everyone how amazing I think she is. But since I got her album "Moments in Movement" it's been the album I've listened to most (I've seriously listened to it in iTunes 70 times in nearly a year!) — and keep telling other people to buy.
Macromantics is an Australian Hip Hop artist, and is the first Hip Hop signing to what must be my favourite record label, Kill Rock Stars. She used to play guitar in Ben Lee's teenage band, Noise Addict, and it was through touring America with them that she discovered hip hop and started writing her own raps.
I've been struggling to describe what her music sounds like, but I guess if you can imagine Hip Hop made by a girl from Australia who is signed to Kill Rock Stars, maybe that will help! Maybe what is more helpful is her influences list on her MySpace: "Patti Smith, Lydia Lunch, Nas, Big Daddy Kane, Rakim, Dylan Thomas, Lester Bangs, O.D.B, Eve Libertine, Wu Tang Clan, Kathleen Hanna, Iggy Pop".
Even if you don't like the hip hop you see on tv or hear on the radio, still listen to this as it's a lot different to that, I mean I've read people compare her to Lady Sovereign (probably because they're both white females) but they are nothing alike. Macromantics music is totally unique, it's maybe a bit more unpredictable and twisted, there are even a couple of more dark songs on the album, but I think it's really her rapping style and the lyrics that do it for me. She raps about social and political issues — with a lot of references to war (one lyric being "bring home the troops this instant") and pop culture (she name checks Corey Haim, Lydia Lunch, Harpo Marx, Greta Garbo, Tom Waits, Susan Faludi, Britney and Cristina to name a few). Her rhymes just seem to work, they flow really well and the more I listen to the album the more I notice lines that I hadn't noticed before — it's all really clever and smart and funny and just references so many things.
As someone who is a fan of hip hop, and not just what I'd call indie or punk hip hop, it's really refreshing to have someone out there doing what she's doing, without all the bragging, guns, bitches and bling, but still keeping the political nature and smooth flows.
My favourite song always changes but at the moment it's track two — Moments In Movements!
Download "Scorch".
Download the video clip for "Apple Crumble".
Or watch videos on You Tube!

Moments In Movement

Physical

And here is an interview!
So, was there an album you fell in love with and listened to over and over last year? Tell us about it!
Posted Jan 16, 11:53 PM | By Katie |
Share this: del.icio.us Digg Technorati Newsvine Reddit Netscape StumbleUpon Google Bookmarks TwitThis
---
So, I went up to Fleet with Melissa and Kat today! It was heaps of fun, they played great music and had great stories! Hopefully they will both email me or post their playlists. But, even better than a list of songs is a recording of the show itself in case you missed it! You can listen to it or download it here. Also, please leave us comments!
Posted Jan 4, 11:50 PM | By Katie |
Share this: del.icio.us Digg Technorati Newsvine Reddit Netscape StumbleUpon Google Bookmarks TwitThis
---
Here is the video for the Delta 5's version:

And this is a short clip of the Chicks On Speed version, live:

The original version was released as their debut single in 1979, but Kill Rock Stars have released a compilation of early Delta 5 material called Singles & Sessions 1979-1981, or you can find it on the three CD compilation called Girl Monster, which was put out by Chicks On Speed records. Girl Monster is such a great album, I love it! It also has Fine As Fuck by Scream Club, Demons Of Love by Mignon, GG by Angie Reed, and my favourite Get It Back by Hanin Elias. If you don't have this album, buy it now! Here is the full track listing:
CD ONE
1. Girlmonster Intro
2. Scream Club Vs. Ben Adorable Feat. Peaches – Fine As Fuck
3. Mignon – Demons Of Love
4. Le Tigre – Hot Topic
5. Barbara Morgenstern – Mountain Place
6. Angie Reed – G. G. (Gaudy Good)
7. Pam Hogg – Honeyland
8. Rhythm King And Her Friends – Speedometer
9. Hanin Elias – Get It Back
10. Kevin Blechdom – Me Saw Me Momma
11. Ana da Silva – Full Moon
12. Anat Ben David – Virtual Leisure
13. Sir Alice – Super Hero
14. Chicks On Speed – Plastic Surgery
15. Vivien Goldman – Launderette
16. Tina Weymouth – Incognito
17. Client – Down To The Underground
18. Kids On TV – Break Dance Hunx
(Market Value Mix)
19. Boyskout – School Of Etiquette
20. Erase Errata – Dust
21. No Bra – No Woman No Crime
CD TWO
1. Pulsallama – Ungawa Pt. 2 Remix
2. The Slits – Typical Girls (Live)
3. Delta 5 – Mind Your Own Business
4. Cherry Sunkist – Nameless Dogs
5. Japanese Intelligence Mind Control – Get The Picture
6. Autonervous – Anchors Away
7. Cobra Killer – Mr. Chang
8. Planningtorock – Changes
9. Hanayo – Pita Pata
10. Björk – Storm
11. Tobi Vail – Panic Of The Square
12. Gustav – We Shall Overcome
13. Bonnie Vs. Hunter – Our Inventions
14. Françoise Cactus – You Can't Put Your Arms Around A Memory
15. LiliPUT – Die Matrosen
16. Katastrophe – Your Girlfriend
17. Lesbians On Ecstasy – Sedition
18. Electric Indigo & Dorit Chrysler – Sheets
19. Cosey Fanni Tutti – Licking The Juice
CD THREE
1. Hotel Motel – Sucker Man
2. Gudrun Gut – Girl Boogie
3. The Creatures – Godzilla
(Siouxsie And Budgie's Girl Monster Mix)
4. Soffy O – Maybe A Dog
5. Ella Bandita – New Year's Eve
6. Las Perras Del Infierno – Somos Las Perras
7. Juliette And The Licks – You're Speaking My Language
8. Miss Le Bomb – Pinkitan
9. Cat5 – Sexy
10. Robots In Disguise – Get RID!
11. People Like Us – Fom Fom
12. Michaela Melián – Manifesto
13. Susanne Brokesch – Heroes (History Mix)
14. Scream Club Vs. Leonard DeLeonard – International
15. Crystal Cookie – Crystal Cookie (Lesson 1)
16. Caro Snatch – Say Trees
17. Malaria! – Your Turn To Run
18. The Raincoats – Shouting Out Loud
19. Vivien Goldman w/ Andy Caine
& Manasseh Sound – Seven Days
20. Ari Up – Baby Mother (Toxicgirl Strip Mix)
21. Miss Pain – Sell It 2 The Kids
(Megaphone Version)
And you can buy it here, and you can buy the Kill Rock Stars Delta 5 release here.
Okay, now it really is time to go drink beer.
Posted Jan 3, 10:58 PM | By Katie |
Share this: del.icio.us Digg Technorati Newsvine Reddit Netscape StumbleUpon Google Bookmarks TwitThis
---
On new years eve we were listening to Hole when Credit In The Straight World came on. Melissa told me that it was a cover and the original version was by Young Marble Giants, I had no idea that it wasn't written by Hole, but then again I don't think I'd ever listened to the Young Marble Giants — I think all I knew about them was that they were in fact a band! So I decided to look them up on the internet and track down the original version of Credit In The Straight World.
So the Young Marble Giants were a post punk band formed in the late 70's and based out of Cardiff. They used to have a keyboard player who built his own synth! I'm jealous because that's something I've always wanted to do! I don't know when they broke up, but they played a show earlier this year and I think our friend Alex went and saw them.
So, here is the original version of Credit In The Straight World! It's from their album Colossal Youth released in 1980 on Rough Trade. Did you know that Hole's version was a cover? What other cover versions do you like? For ages I thought that Chicks On Speed wrote Mind Your Own Business and it was once again Melissa who told me about the Delta 5.
Tomorrow I think I'm going with Melissa when she does her radio show on Fleet, yay! But now, it is time to go and drink beer.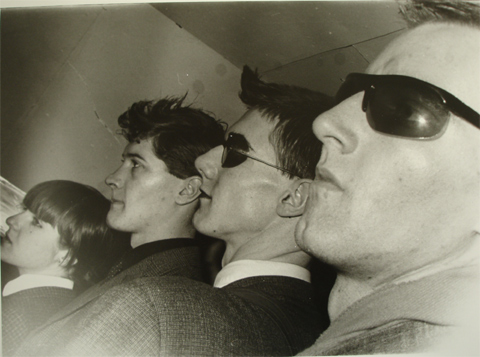 Young Marble Giants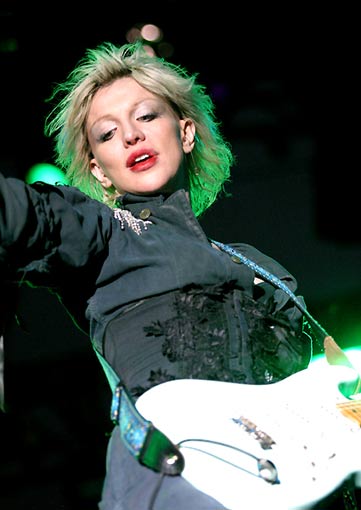 Courtney Love in 1994, the year Live Through This was released (I was too lazy to find a photo of the whole band)

Young Marble Giants — Credit In The Straight World

Hole — Credit In The Straight World (live, Koln Germany 1995)
Posted Jan 3, 10:26 PM | By Katie | [1]
Share this: del.icio.us Digg Technorati Newsvine Reddit Netscape StumbleUpon Google Bookmarks TwitThis
---