Glasgow-based band Palms played at the launch of Covergirl's Paris Burns single release at Power Lunches a couple of weeks ago. My respect for them grew from hearing their first song, and thinking, "hmm, not bad", to being throughly obsessed with this song, Wolf, which they played at the end of their set.
There's a 50s garage/dark country element to the vocals which puts you in mind of bands like the Dum Dum Girls, but the bassline is more menacing, the tempo more languid, than that "girl group" style normally employs. I was also actually weirdly reminded of Sleater Kinney in parts, and the Cramps-esque howl at the end sealed the deal for me. I love this song.
Palms – Wolf
Posted Nov 10, 10:54 pm | By Melissa |
Share this: del.icio.us Digg Technorati Newsvine Reddit Netscape StumbleUpon Google Bookmarks TwitThis
---
I've been seeing a lot of bands lately, ace. Though, I'm pretty sure I'm starting to go a bit deaf. Price you pay I guess…And no, I don't think I'll start wearing ear plugs, and yes, I know I should.
Here are a few that I've heard recently that are totally worth looking out for:
The Ethical Debating Society. These guys played at our Younger Lovers show at the Dew Drop in July. I'd been hearing about them for a while, but this was the first time I'd seen them, and they did not disappoint! I think probably someone like Everett True has already compared them to Huggy Bear, but suffice to say, they did British Riot Grrrl more than enough justice, and got everyone well in the mood.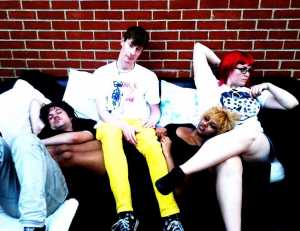 Fever Fever is a band I just saw last Friday at Ste McCabe's Queer Riot night at the Royal Vauxhall Tavern. They're a 3 piece from Norwich, with call and response lovely shouty vocals from the two girls, plus wicked, pretty heavy guitar playing from both of them, and perfect punk drumming from their bandmate. I was blown away. Loved the way they interacted with the audience too, I'm so sick of performers pretending to be awkward, and it was ace to see some funny girls on stage. (thanks to Kris Ethical Debating Society for the photo from last week's RVT show).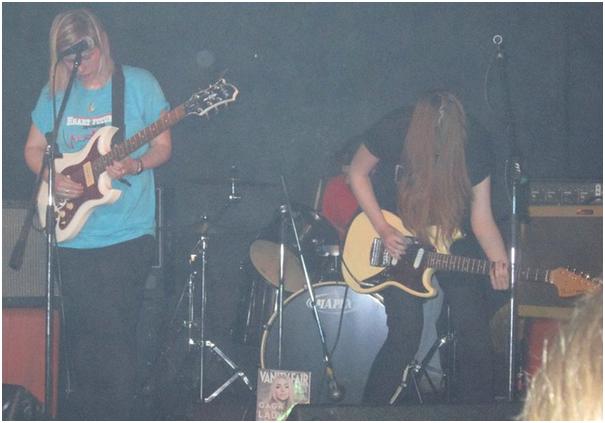 Bitches I saw on the Sunday of last weekend's Upset the Rhythm festival, Yes Way. They were in fact the first band I saw, so were always probably gonna stick in my mind, but I loved the hardcore way they both played their instruments, chaotic, loud, and kind of mean, actually.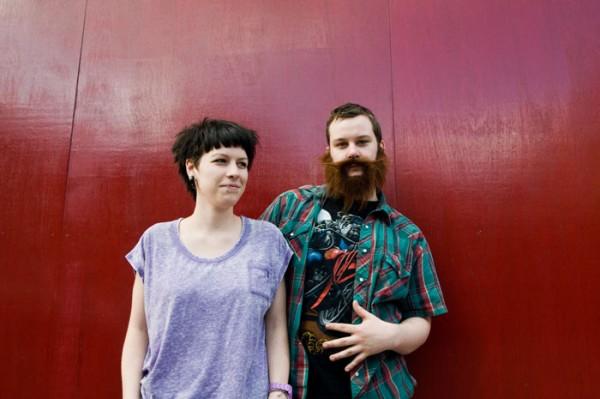 No Womb – the jury is still out as to what I think about this band at the moment, beyond the fact that they were one of the most interesting that I saw at Upset the Rhythm, and that they were also largely responsible for making me just that little bit deafer. Free noise? No wave? Experimental punk? Great cover of the Smiths "What Difference Does it Make".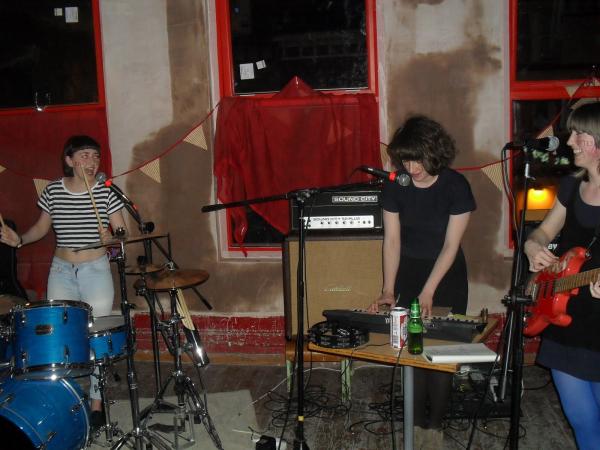 Finally, Meddicine. Who I have never seen, but am avidly keen to…I love both her sound and her aesthetic, it reminds me of this amazing exhibition I saw at Tate St Ives last winter, "The Dark Monarch: Magic & Modernity in British Art". Kind of arcane and disturbing.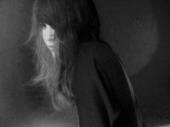 Posted Aug 20, 03:25 am | By Melissa |
Share this: del.icio.us Digg Technorati Newsvine Reddit Netscape StumbleUpon Google Bookmarks TwitThis
---
Yay, Gossip have made a video for Pop Goes the World! Love the visual distortion effect thingy.
Posted May 11, 12:46 am | By Katie |
Share this: del.icio.us Digg Technorati Newsvine Reddit Netscape StumbleUpon Google Bookmarks TwitThis
---
Posted May 6, 01:59 pm | By Katie |
Share this: del.icio.us Digg Technorati Newsvine Reddit Netscape StumbleUpon Google Bookmarks TwitThis
---
Only 3 days left to listen to this on the BBC iplayer, so get to it!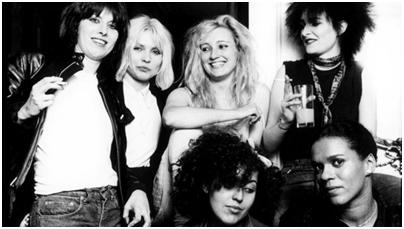 From the left: Chrissie Hynde (The Pretenders), Deborah Harry (Blondie), Viv Albertine (The Slits), Siouxsie Sioux (Siouxsie & the Banshees), front: Poly Styrene (X-Ray Spex), Pauline Black (The Selector).
Harking back to the famous photograph taking by Michael Putland for the New Musical News in 1980, Pauline Black, lead singer of two tone band The Selector interviews Viv Albertine (The Slits), Poly Styrene (X-Ray Spex), Siouxie Sioux (Siouxie and the Banshees) and Gaye Advert (The Adverts) about their experiences as female musicians of the "new wave" in the late 70s, early 80s.
Particularly interesting for me was Pauline's mention of the fact that both she & Poly Styrene were mixed-race, which affected how, Pauline at any rate, presented herself on stage. The topic didn't really get much further than this mention, but it was very intriguing, and I'd love to hear more about what the two women have to say on the matter.
Oddly, she interviews Jean-Jacques Burnel, lead singer of the Stranglers, and he discusses how his band were sadly misunderstood, and even persecuted by the feminists of the day, boo-hoo to him. I thought it quite an excellent juxtaposition though, to have all these amazing women who inspired and empowered so many other women, speaking about their experiences alongside someone who was their peer, and yet who achieved exactly the opposite effect.
Anyway, check it out here.
Posted Mar 19, 05:05 am | By Melissa | [1]
Share this: del.icio.us Digg Technorati Newsvine Reddit Netscape StumbleUpon Google Bookmarks TwitThis
---