Last month I saw Canadian band, Austra, play at the Corsica Studios in Elephant & Castle at the recommendation of a friend, and they blew my mind. They were an act more polished than I've been used to seeing in the last few months, which took some getting used to, but by the end, all I could think was, "how the hell did I get to see that for only £3?".
Austra were at the end of a tour which had included SXSW, but there wasn't much sign of burnout, lead singer Katie Stelmanis' classically trained voice soared over the heads of the crowd, and fanboys scribbled feverishly away in their notebooks as the band covered what I imagine was largely the contents of their debut album, Feel It Break , to be released on 17th May.
Austra is dark, dramatic pop, and as their label Domino says, the first single of their upcoming record, "Beat & the Pulse" is "the warmest cold track of the year". It's also been stuck in my head for days…
Austra – Beat & the Pulse
Posted May 7, 04:38 am | By Melissa |
Share this: del.icio.us Digg Technorati Newsvine Reddit Netscape StumbleUpon Google Bookmarks TwitThis
---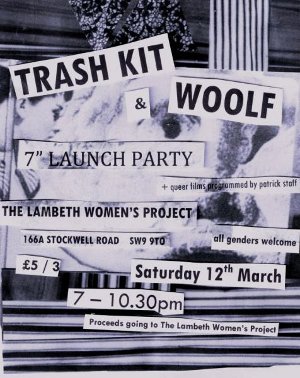 Come celebrate the release of the brand new Trash Kit/Woolf split 7", coming out by way of Milk records! Free zine enclosed…

Party starts at 7pm, and will be held at the indomitable Lambeth Women's Project, 166a Stockwell Rd, SW9 9TQ.
Way to celebrate International Women's Day all weeeek…
You can also enjoy queer film making at its finest courtesy of Patrick Staff, and mix and mingle with London's DIY queer community, south of the river (for a change).
See you there!
www.myspace.com/woolflondon
trashkitrules.blogspot.com
Woolf – Fishing With Lolita
Posted Mar 10, 12:28 am | By Melissa |
Share this: del.icio.us Digg Technorati Newsvine Reddit Netscape StumbleUpon Google Bookmarks TwitThis
---
I came across Coconut Unlimited, the debut novel by British author Nikesh Shukla, by way of my formidably well-read friend Margo's interview with him on Bookslut.
Coconut Unlimited is told from the perspective of Amit, a gujarati boy from Harrow who is introduced to his first true love, hip hop, at the age of 9 when his cousin presents him with a dubbed tape called "Rap Trax!", opening with Public Enemy's "Don't Believe the Hype". What follows is a personal, yet also universal, story of a teen boy and his love for hip hop, intertwined with the ordinary struggles of adolescence and the particular story of growing up Asian in London in the 90s.
I can't wait to read the book in full, I'm attracted to the obsessive detail about tapes & music fandom that the author seems to use as the backbone of his book. One bit I managed to read had the kids making an un-recordable tape recordable again by filling up the holes with tissue – totally remember doing that with my sister, though I'm pretty sure we used sticky tape. So it's a bit of a nostalgia trip.
But not only that, though the author talks about his frustration about being pigeon holed as an Asian author in Margo's interview, one of the things that draws me to this story is the familiarity that comes with the character being Indian, and being second generation in a country that parents, or grandparents moved to, with possibly other intentions for their children in mind than them becoming rap stars, or other [insert weird hobby/job here].
Books about these second/third etc generation kids, and, relatedly, mixed race kids, are few and far between, and if they exist, often seemed focused on "issues" an an overly earnest way that make out like it's a problem for these kids to be living in a country that's not their "ancestral home" or to be ethnically & culturally mixed. Sure, there are issues, and I guess it's important to discuss, but for god's sake, I hope that Nikesh is not going to be the only one who writes books about us being obsessed with taping Snoop Dogg in the 90's or whatever, cos that's what I want to be reading about. Well, I fairly over-explained my obsession about that on this very blog.
On a bit of a lazy tangent, I'm really looking forward to checking out the exhibition, For the Record: The Social Life of Indian Vinyl in Southall, which came to my attention through Red's blog Feminist Memory. This will be an indepth look at the way in which the South Asian community in Southall exchanged & listened to vinyl in the 60s and 70s. Sounds like something I need to know about.
Posted Feb 12, 05:38 am | By Melissa |
Share this: del.icio.us Digg Technorati Newsvine Reddit Netscape StumbleUpon Google Bookmarks TwitThis
---
Christ, why have I only just heard of Factory Floor today??
So many lost opportunities to go and get throughly destroyed by this mind blowing band.
I dare you to watch this whole video without having a nervous breakdown. (I did it while in my little cubicle in the office at work, surreal).
Posted Jan 22, 06:00 am | By Melissa |
Share this: del.icio.us Digg Technorati Newsvine Reddit Netscape StumbleUpon Google Bookmarks TwitThis
---
This band played at the last ever Club Milk at the Rat Star, 2010. I didn't make it to that show, but afterwards my friends were buzzing about how great Skinny Girl Diet were.
Their fuzzy, bass-heavy sound is surprisingly old school, songs such as "Forget You" sounding like a Heaven's to Betsy song reconfigured for the future. This is mixed with raw, youthful vocals and a band name that sounds like the kind of sneering you'd expect from a young Polystyrene or Ari Up, though this music is more menacing and grungey than the bands the latter two were famous for.
Hope they play again soon, so I can see them live, but in the meantime, a video…

SKINNY GIRL DIET debut gig stags head '09

Skinny Girl Diet | Myspace Music Videos
Posted Jan 15, 12:36 am | By Melissa |
Share this: del.icio.us Digg Technorati Newsvine Reddit Netscape StumbleUpon Google Bookmarks TwitThis
---