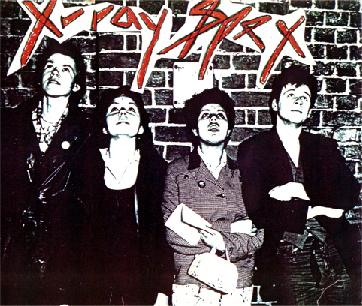 I felt kind of nervous going to the X-Ray Spex show at the Roundhouse in Camden last Saturday cos I was worried I'd be disappointed. No matter how hard I tried I wasn't gonna get transported back to 1976, and I just hoped it would still be as amazing a spectacle as it was in my head (having only been born the year the first incarnation of X-Ray Spex broke up).
Mainly, I was going to see Poly Styrene and hear her voice in true life, that was how come it seemed ok to pay £30 for a ticket to see a band who was known for their anti-consumer lyrics (I mean, I paid only $20 or something to see the Slits, and they'd come all the way to New Zealand!). Poly Styrene, when she was young and wearing plastic bag dresses is my ultimate inspiration: so weird, and so astute and so strident. Plus she was multi-racial with braces and said things like "yammer yammer yammer, yammer yammer yammer, boredom boredom, boredom boredom!" which is a phrase that seems to be appropriate for so many situations. X Ray Spex was one of the most important bands of their era for punk music, but Poly transcends even that for me.
Anyway, to be honest it was a mixed show. I'm gonna start with the downside at the risk of being negative: the sound was bad, she sometimes sang way out of time and had to drop whole lyrics to catch up and at times the band seem to be falling apart, which seems like it'd be just the ticket for X Ray Spex fans, but it just didn't have the same charm or riotous rebellion it would've had in '76 when played in some shitty punk club…No, this was the Roundhouse, there were coloured lights and a big stage and lots of people, so it was a bit weird. Also, Poly was dressed pretty conventional and a couple of songs were performed twice, which was odd.
Though, in all honesty I was glad Oh Bondage! was played twice, because they opened with it and it took me by surprise so I didn't have time to take it in. When they played it the second time Poly Styrene's daughter joined her on stage which was so great (her daughter's band opened that night, but unfortunately I missed them). It reminded me of when the Slits played and various "daughters" played with the original members. Aside from the dodgy technical stuff (I can't believe I really even cared about all that actually) I was having these weird brain flips thinking, oh my god, that is the Poly Styrene I'm looking at, and her actual voice singing those songs: it was just one of those moments that I thought could never happen just cos I wasn't born in time, but there it was right in front of me, and I know I'm gonna sound like a hippy, but it was pretty magical to have that occur.
They pretty much played all their songs off Germ Free Adolescents, apart from Plastic Bag. I think I probably enjoyed I Can't Do Anything the most, as it was my first favourite X Ray Spex song ever ("Freddie tried to strangle me,with my plastic popper beads, but I hit him back with my pet rat!"), and she really sang that song like she meant it (whatever it means!?). All in all the show was great, at times a little like a family sing-a-long combined with moments of pure punk abandon, and I felt very privileged to have been able to go.
Posted Sep 13, 12:16 AM | By Melissa |
Share this: del.icio.us Digg Technorati Newsvine Reddit Netscape StumbleUpon Google Bookmarks TwitThis
---