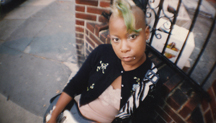 I was sooo excited to discover that Pogo Cafe in Hackney, London was screening the 2003 documentary Afro-Punk: the roll 'n' roll nigger experience, directed by James Spooner. This was a film I'd wanted to see for ages, but hadn't been able to afford buying it and getting it sent to New Zealand while I was still living there, ah, wonderful big cities where you can actually have films like this screening for free at your local anarchist, vegan café!
The documentary interviews various people who are black and identify as punks or are part of the punk rock scene, looking at various issues that arise for them due to that combination of factors, such as feelings of isolation, back lash from their families and black communities, inter-racial dating, their inspirations and role models and so on.
I think it's less likely you'd be the only "person of colour" at an Auckland punk or alternative show compared to what I've heard about America, I mean, I've never lived in the US, but I reckon generally Auckland is not too bad when it comes to racial diversity in most of the scenes, maybe?? Maybe it's just cos we're smaller, and so the scenes are smaller.
And that said, obviously I have been in situations where I've been like one of two "people of colour" at said punk or alternative show, but no one ever points this out, or seems to care for whatever reason, even though I notice. Plus, when I used to work in Otara I'd occasionally seen kids who take on the "punk" look and how weird that is for everyone around them, because it's seen as a "white" thing.
I think it's pretty clear that assimilation is generally assumed as the way brown people will exist in scenes populated mainly by white people, and this is annoying and insidious and hegemonic and generally boring. I'm totally interested in the situation and what this means (as you can probably tell from my latest posts to this blog!), and I was keen to watch this film to see what kind of a fuss Afro-Punks kick up in their own scenes in the States.
As you can probably guess, most people interviewed had a fairly hard time with their families accepting their mohawks or choice of music or friends or whatever, and lots got beaten up on the street in their neighbourhood, girls got called dykes and boys got called fags etc etc, and most really wanted to know more black punks cos most of their friends and girlfriends/boyfriends were white. Maybe that is all pretty obvious, but it was totally interesting, cos when do you actually get to hear these stories from the mouths of actual non-white punks? You hear a lot from white people in riot grrrl and activist and punk scenes lamenting the lack of diversity in their scenes, and taking a good look at their own racism and working for change and stuff, but very rarely do you hear from people actually experiencing being black/brown and punk. And it always annoyed me that people would go on about riot grrrl etc being a white scene cos it ignored the fact their were non-white people in those scenes making music and zines and organising shows and djing (incidentally, in the latest F-word zine, reproductive justice campaigner Loretta Ross has the same complaint about people who dismiss the Women's Movement as white and middle class, she's all like, what about the work that I did and other black women and working class women in that movement…).
Yeah, so it was cool to have those voices and opinions presented, and the only white people on the documentary were friends of the interviewees who were mainly just in the background. There's some live footage too by Bad Brains, Cipher etc, and all in all it was a pretty smoothly made documentary despite the fact it was the director's first.
The gender split amongst those interviewed was really good, and I liked that the women were dealt with as seperate individuals, not lumped together and assumed to have a shared experience because they were women (unlike for example the latest Vibe magazine – oh, maybe I'll just rant about that later).
I liked the fact the documentary wasn't all doom and gloom too, like, obviously the negatives need to be said, but it wasn't all "oh poor me" or anything, the shots of live shows and the passion of most of those interviewed and pictures of hot black kids with coloured mohawks and piercings served to present and exciting and vibrant view of what it is to identify as Afro-Punk, and I mean, punk is meant to be about adversity and politics right? It's what gives it its fuel. As a few of the interviewees said, where do people think music like this originated from? By and large, black musicians with guitars. Punk can be easily owned by black people.
There were definite problems with the doco, for example the kinds of bands the director focused on weren't very diverse and a lot weren't what I'd think of as "punk" (but probably fit into someone else's idea of punk), for example there was lots of heavy rock, and "good" singing. Plus, when the interviewees were name-checking their heroes, I don't get why X-Ray Spex wasn't mentioned? But I think probably that just kind of illustrates this film's totally American focus, and its bent towards a definition of punk as hardcore and rock, rather than riot grrrl, indie and experimental. And of course the dude making it would've totally just been focussing on bands that fit his tastes which is absolutely fair enough.
No mention was made of queer black punks, and I don't know if it's just me but I always assume queer and punk go hand in hand, but am often disappointed (like, even the feminist book Pretty In Punk only discusses queer very briefly and as a tiny phenomenon). Not that I was necessarily expecting to have the documentary also talk about how it is to be black, punk and queer (though that would be a damn interesting and important documentary for someone to make!), but I just felt that the question of inter-racial dating which was covered kind of just assumed that we were only interested in the problem for hetero couples.
Also, interestingly no mention of feminist issues was made, I have become so used to American riot grrrl critiques of the male-centric hardcore scene that I kept waiting for a commentary after each shot of men slamming their bodies around at hardcore shows, and that never came. But then actually, one of the women interviewed talked about how much fun she had slamming around to a band and ending up with bruises, and it was super refreshing just to hear her say this, and not having her being forced into focusing on her gender or being made to make broad statements about what other women might have experienced. Obviously she personally had a great time! Normally I find it suspect when issues of gender are glossed over, but then considering the amount of writing there is out there about prioritising gender over race or the possibility of combining those issues, I think the director probably purposefully didn't mention "feminism", but did a good job of including black women's perspectives.
After one of the shots of a hardcore show it was really interesting to hear the (white) kids in the audience being asked if they actually knew what the dude they were shouting along to was talking about lyrically. And most of them had a pretty good semblance of an idea, and were totally down with the fact he was singing about anti-racism and black power. But as the guy who was singing told us, he's not really singing for hardcore kids, he's singing for black people who often aren't in the audience, so it's all a slightly weird situation.
Probably the most interesting interviewee for me was Mariko Jones who was in her early twenties and was highly involved in the scene DJ-ing etc. She lived in a middle class neighbourhood, had never dated a black guy and was sometimes teased by other black people as having a Valley Girl accent. The way the documentary captured her, she seemed pretty unsure of herself, stumbling over her words, her hands twisting together when she talked – she was presented as having a lot of internal conflict. She did say some weird stuff, like she seemed to feel she needed to say she was making t shirts with the words "black is beautiful", but also how she did sort of wish she could meet a black guy but seemed to doubt he could possibly be into what she was into, and cos she wasn't putting herself out there all sexy she implied black men wouldn't really be into her.
But then later I wondered if how I percieved her on the film was more a product of what the director was "directing" me to see, due to the way he interpreted her statements rather than any "real" self-doubt on her part, after all, the whole film was made through his eyes. Perhaps Mariko Jones wasn't going through any kind of crisis at all, that was just how she was, a black girl that didn't want to be seen as "the black girl" that just hung with white people – so what? Is that a problem? Is she any less sure of her identity than the woman who talked about how she started off adopting the punk look, and then later connected this look with the way many Africans traditionally pierced themselves and cut their hair, and so began seeing the way she dressed as a way to connect with her African roots? I mean, clearly we are supposed to think that is a more intelligent and healthy identity to take on, compared to Mariko's "like, um, you know"s…(they want to make a symphony out of the sound of us swallowing our tongues) It's not as though Mariko was ashamed to be black, she was proud of it, but just maybe didn't think about it as much. But I guess you can't really tell much about people from a documentary however, perhaps Mariko really was feeling weird in the head about it all, having a conflict about "who she was". But if this is a documentary about diversity, then surely she's just another voice adding to the plethora of identities available to black people who embrace punk? This is not a criticism of the director by the way, how else can you make a film except through your own eyes? This is more just the back and forth debate I had in my head on the bus on the way home. I think the director really picked a great range of people to interview.
Anyway, something else this film got me thinking about was due to a conversation I had straight after I saw it. The guy who had brought the film to be screened clearly felt a bit uncomfortable about aspects of it, (e.g. the lack of discussion around feminist issues, no mention made of the Bad Brains' homophobia etc), and so when he asked me and my friend if we liked it, he kind of seemed to overlook my enthusiastic "hell yes!" and kind of launched into this negative thing about it, and how he found Mariko really "annoying" etc. Ok, a) if some girl who is obviously not-white and who you could possibly infer given the context is queer and feminist says she likes a film like this, surely as a white guy you could just bite your tongue and go, ok cool, this film obviously speaks to her, fills some gap, whatever and not just talk over the top of her? And b) why was Mariko annoying? Do people really find it that difficult to deal with plural identities that they can't stand it when things seem to be a little bit indefinite? When people seem to be contradictory or say things that don't seem "politically sound" (at least as you identify politically sound)? I mean, I guess I'm being unfair to this guy who I spoke to for a total of 2 min, and actually he was mainly talking to my friend cos he knew her, and, after all he had bothered to buy the film and show it to us, and was probably making some sort of apology in case we'd found it sexist and heterosexist. But I just really felt so excited and inspired by the film, not just cos of the good things about it, like the fact that finally we get to hear from black punks and see amazing footage, and build up a bit of an idea about what scenes are like in the States, but also for the questions it raised for me afterwards about identity and what the future of underground music could be and which aspects of it I want to explore. So probably I over-reacted, but that's nothing new!
I love it how you see films like this and things just start branching out from it, your thoughts on life and society and identity and yourself etc. Watch this film if you can cos it's grand, I'm very happy it was made and very grateful I could see it.
Posted Aug 23, 01:45 AM | By Melissa |
Share this: del.icio.us Digg Technorati Newsvine Reddit Netscape StumbleUpon Google Bookmarks TwitThis
---