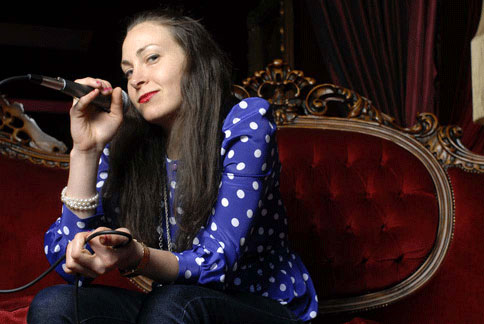 I've been meaning to write about Macromantics for a really long time, but have never felt like anything I write about her would do her justice or explain to everyone how amazing I think she is. But since I got her album "Moments in Movement" it's been the album I've listened to most (I've seriously listened to it in iTunes 70 times in nearly a year!) — and keep telling other people to buy.
Macromantics is an Australian Hip Hop artist, and is the first Hip Hop signing to what must be my favourite record label, Kill Rock Stars. She used to play guitar in Ben Lee's teenage band, Noise Addict, and it was through touring America with them that she discovered hip hop and started writing her own raps.
I've been struggling to describe what her music sounds like, but I guess if you can imagine Hip Hop made by a girl from Australia who is signed to Kill Rock Stars, maybe that will help! Maybe what is more helpful is her influences list on her MySpace: "Patti Smith, Lydia Lunch, Nas, Big Daddy Kane, Rakim, Dylan Thomas, Lester Bangs, O.D.B, Eve Libertine, Wu Tang Clan, Kathleen Hanna, Iggy Pop".
Even if you don't like the hip hop you see on tv or hear on the radio, still listen to this as it's a lot different to that, I mean I've read people compare her to Lady Sovereign (probably because they're both white females) but they are nothing alike. Macromantics music is totally unique, it's maybe a bit more unpredictable and twisted, there are even a couple of more dark songs on the album, but I think it's really her rapping style and the lyrics that do it for me. She raps about social and political issues — with a lot of references to war (one lyric being "bring home the troops this instant") and pop culture (she name checks Corey Haim, Lydia Lunch, Harpo Marx, Greta Garbo, Tom Waits, Susan Faludi, Britney and Cristina to name a few). Her rhymes just seem to work, they flow really well and the more I listen to the album the more I notice lines that I hadn't noticed before — it's all really clever and smart and funny and just references so many things.
As someone who is a fan of hip hop, and not just what I'd call indie or punk hip hop, it's really refreshing to have someone out there doing what she's doing, without all the bragging, guns, bitches and bling, but still keeping the political nature and smooth flows.
My favourite song always changes but at the moment it's track two — Moments In Movements!
Download "Scorch".
Download the video clip for "Apple Crumble".
Or watch videos on You Tube!

Moments In Movement

Physical

And here is an interview!
So, was there an album you fell in love with and listened to over and over last year? Tell us about it!
Posted Jan 16, 11:53 pm | By Katie |
Share this: del.icio.us Digg Technorati Newsvine Reddit Netscape StumbleUpon Google Bookmarks TwitThis
---