Last Friday night @ the Lexington in London saw yet another memorable show organised by DIY promoters, Upset the Rhythm: After a 20 year hiatus, Ut, the legendary all-female band born out of the New York No Wave movement is performing live again.
Ut formed in '78, amid the creative chaos of broke, experimental, art school New York. Their contemporaries included Teenage Jesus and the Jerks, Mars, DNA, James Chance and the Contortions, and after a move to the UK in '81 they were often seen performing with bands such as the Fall and Birthday Party.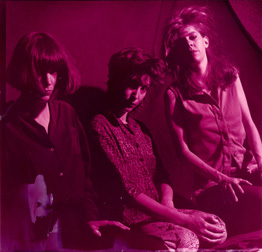 On Friday, Ut were fortunate to have London queer/indie heroes Peepholes and Trash Kit opening for them. Unluckily for me, I arrived too late to see Peepholes, but have no doubt they were as good as always.
This was apparently Trash Kit's second to last show, as Ros the bass player is going to France for a while. I discovered the details of their hiatus after reading the most recent issue ofShotgun Seamstress, an American zine about black punks, put out by Osa of the New Bloods. This latest (and last) issue was brought out specifically in time for this show, and features a satisfyingly long interview with Rachel Aggs & Ros Murray of Trash Kit. During their performance, Rachel mentioned the fact that the zine was the driving force behind Trash Kit forming, so it seemed particularly poignant that both creative ventures were about to go on hiatus.
Trash Kit played a tight show. Emotionally powerful as always, joyful & weird, their punk rock dissonance shifts abruptly to funk-based experimentalism and back, with vocals that, while almost impossible to make out, are heartfelt and warm, lacking the cold calculation of a lot of post-punk-style bands. Definitely children of the Raincoats but also their self described love of Afrobeat is very much in evidence. Rachel Aggs' songs are a queer mixed race girl's dream, writing about hair and its "politics", coming out, riding the bus and losing things. One of the songs has its backbone a Filipino drumming pattern. It'll be sad to not have this literally life-affirming band on the scene for a while, though according to their blog they are recording an album, which is good news.
Ut's performance began with Jacqui Ham rapping out some fairly grumpy requests to have the smoke machine turned off (the smoke machines are always a ridiculous feature of any gig), and she continued to portray this cantakerous figure throughout, but jesus christ she was an amazing musician! Ut's music is less alienating than most that came out of the No Wave movement, and heads more towards Sonic Youth-accessibility. Dark and tuneful, but with much guitar distortion, and anxious vocals that set you on edge, so accessible is perhaps a misleading discription, depending on your taste in ear shredding noise.
Jacqui and her band mates Nina Canal and Sally Young traded instruments and vocal duties throughout, which made for a dynamic show, reflecting the experimental roots of No Wave: the rejection of convention and static boredom.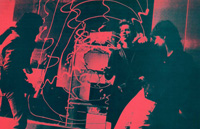 My favourite Ut song, the Nina Canal-sung Dr No from the Steve Albini produced album Griller, I think was a rare time in which they mucked up somewhat, but apart from that hiccup their performance was noticeably tight and energetic for band that hasn't performed together for basically 21 years (I say basically, because apparently there was a secret gig that they played in London last year).
Not to drive a point home too hard, but I could have done without Jacqui Ham's meanness, at one point when they were switching instruments a fan yelled out the name of a song he wanted and he got the sharp rebuff, "you gotta wait, mate". We're here to see you, not annoy you, Jacqui.
The visual experience of seeing 3 "older" women ripping it up is not to be downplayed either, as we drown in a sea of mediocre male bands making comebacks, or doing the rounds to make some money. Ut looked as though they'd never stopped (and indeed all 3 do still make music in other bands), but also like they didn't really give a shit about impressing anyone with their old school kool cred. Wrapping the crowd in a wall of sound, they exuded a skill and confidence in their band that left me feeling mesmerised.
Ut – Swallow

Posted Oct 1, 07:41 am | By Melissa |
Share this: del.icio.us Digg Technorati Newsvine Reddit Netscape StumbleUpon Google Bookmarks TwitThis
---