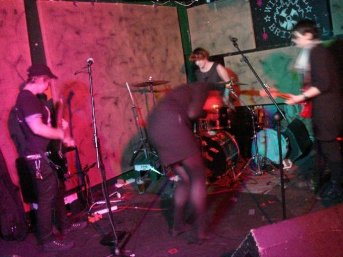 Sounding like the meeting point between Young Marble Giants and
DIY
hardcore,
Woolf
are more uncategorisable than other new London bands playing the queer/indie/punk circuit at the moment, but nevertheless this is a band comprised of members of other bands from these scenes:
Roseanne Barrr
,
Corey Orbison
,
Gender Fascist
& NZ girl punk band
Toxic Shock Syndrome
, among others.
The name "Woolf" kind of makes me think of serious, book reading, woods-walking girls with a penchant for fierce animals and whiskey drinking. Which kind of describes the music pretty well, actually.
Woolf have a sort of "offness" and an awkwardness about them, which at first I put down to the idea that maybe the band members (Colette on vocals, Sophie on drums, Georgina on guitar & Irene on bass) were all perhaps bringing their own idea of what sort of music Woolf should be playing; this was a new band after all, and I wondered if there was a bit of a schism between the "punk" and the "experimental". After seeing a few of their shows, however, I realised this was the point of Woolf, they exude a no-wave, dark punk sound which resists categorisation and provides a challenging listen. When they're on, their "off" is amazing.
The last show I saw them at (Brighton Queer Mutiny at the Cowley Club), their timing was spot on and the menace & often anti-climactic bad-mood, ellipticism was perfectly evoked. (You probably don't know me, but let me tell you, "anti-climactic, bad-mood, ellipticism" is a very good thing). Most of their songs leave you unsettled. A few, like "December" are out-and-out girlpunk, and easier to get your head around.
Colette's vocals are outstanding. "Witch" is my favourite – "I met you…in Dulwich woods"...What is this song about? Dunno, but south London never sounded so creepy.
Woolf are playing next at Club Milk, along with Bellies, Covergirl, Drunk Granny & Peepholes. So go see what I mean. They have a tape you can buy too.
Posted Jun 4, 10:42 AM | By Melissa |
Share this: del.icio.us Digg Technorati Newsvine Reddit Netscape StumbleUpon Google Bookmarks TwitThis
---