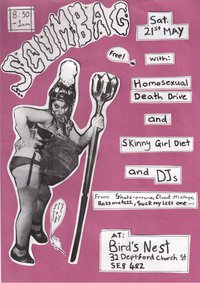 This Saturday will see rare performances by London bands, Homosexual Death Drive and Skinny Girl Diet, as well as a raft of queer DJs previously heard at the likes of club nights Closet Mixtape, Razzmatazz, Shake-O-Rama and Suck My Left One.
Homosexual Death Drive, who are Charlotte Cooper and Kay Hyatt, describe themselves as "no-fi amateurish haters", which suits the mission statement of SCUMBAG to a T. Their name came about when they were told of Lee Edelman's book, "No Future: Queer Theory and the Death Drive". It's a catchy name, alright.
Lee says: "queerness can never define an identity; it can only disturb one".
Homosexual Death Drive's performance is eagerly anticipated, after their last outing at the Rat Star in 2010, playing at Club Milk's final show, which you can read a review of here.
Skinny Girl Diet also played the Club Milk show (p.s I missed that show, so am going on rave reviews of both these bands from friends of mine who managed to attend). The band features Delilah Holliday on guitar, Ursula Holliday on drums & Amelia Cutler on bass. Their sound is dark and grungey with post punk vocal stlying. Everett True's written a review.
SCUMBAG the club night was originally conceived while me & my housemate, recently evicted from our old home, and feeling fairly broke and scummy, hot on the heels of a scabies outbreak and a mouse infestation, carried our roadside-find table from Brixton to our moldy new house in Peckham through the snow last winter (because we couldn't affort a taxi).
We felt like putting on a fun night to cheer ourselves up, but in the wake of recent evils inflicted by the government, we thought it'd also be a good opportunity for our community to share with each other stories & wisdom regarding how to survive in a hostile climate.
You will be able to pick up the inaugural issue of the SCUMBAG zine, which is a collaborative effort by us and our friends, filled with tales of outrage, DIY tips & tricks, scams & scandals, queer lessons learned and quite a bit about the library… It's a hard world out there, and when it comes down to it, we know where the real scum lies….
We're taking contributions for the next zine, so email them to queerscumbag@gmail.com.
In the immortal words of Juile Ruin: "It's time we point the finger at who the real criminals are".
See you Saturday, @ the Bird's Nest, 32 Deptford Church St, SE8 4RZ, 8.30-1am (FREE).
Posted 3169 days ago | By Melissa |
Share this: del.icio.us Digg Technorati Newsvine Reddit Netscape StumbleUpon Google Bookmarks TwitThis
---
Last month I saw Canadian band, Austra, play at the Corsica Studios in Elephant & Castle at the recommendation of a friend, and they blew my mind. They were an act more polished than I've been used to seeing in the last few months, which took some getting used to, but by the end, all I could think was, "how the hell did I get to see that for only £3?".
Austra were at the end of a tour which had included SXSW, but there wasn't much sign of burnout, lead singer Katie Stelmanis' classically trained voice soared over the heads of the crowd, and fanboys scribbled feverishly away in their notebooks as the band covered what I imagine was largely the contents of their debut album, Feel It Break , to be released on 17th May.
Austra is dark, dramatic pop, and as their label Domino says, the first single of their upcoming record, "Beat & the Pulse" is "the warmest cold track of the year". It's also been stuck in my head for days…
Austra – Beat & the Pulse
Posted 3182 days ago | By Melissa |
Share this: del.icio.us Digg Technorati Newsvine Reddit Netscape StumbleUpon Google Bookmarks TwitThis
---