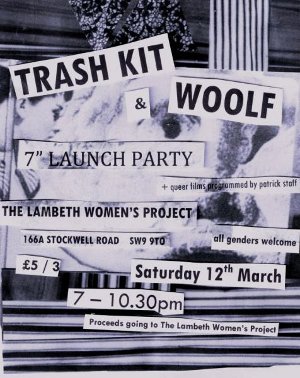 Come celebrate the release of the brand new Trash Kit/Woolf split 7", coming out by way of Milk records! Free zine enclosed…

Party starts at 7pm, and will be held at the indomitable Lambeth Women's Project, 166a Stockwell Rd, SW9 9TQ.
Way to celebrate International Women's Day all weeeek…
You can also enjoy queer film making at its finest courtesy of Patrick Staff, and mix and mingle with London's DIY queer community, south of the river (for a change).
See you there!
www.myspace.com/woolflondon
trashkitrules.blogspot.com
Woolf – Fishing With Lolita
Posted 3240 days ago | By Melissa |
Share this: del.icio.us Digg Technorati Newsvine Reddit Netscape StumbleUpon Google Bookmarks TwitThis
---