I was looking in the web statistics for our website and saw that quite a lot of people have found us by searching for Ladyfest. So in case they didn't find what they're looking for, the link to Ladyfest Auckland's MySpace is http://www.myspace.com/ladyfestauckland, or you can email the organisers at ladyfestauckland@gmail.com.
There is meant to be a fundraiser on soon, but details are still being confirmed. I think Melissa is going to post here about some of the bands and also the dates everything is happening!
I wanted to post a photo, so that is a picture of Kat's awesome birthday cake. I stole the photo from their MySpace. Also, I'll try to write or respond to some of the other search queries that have brought people here. AND! Please tell people about our website. It makes us sad that no one comments!
Posted 4386 days ago | By Katie | [1]
Share this: del.icio.us Digg Technorati Newsvine Reddit Netscape StumbleUpon Google Bookmarks TwitThis
---
I just noticed I forgot to post the link to the show Melissa did on Fleet FM last Friday! You can listen to it here!
After the last one I posted, I had a couple of people tell me they had trouble listening to it — if you click on the link it should play in your browser, but if you want to download it to your computer just right click on the link and choose to save the mp3 to your computer.
There are the songs that Melissa played:
Cobra Killer – Six Secs
Les Georges Leningrad- Georges Five
Comanechi – Tea Bags
Free Kitten – Proper Band
The Trip – Help Me
Spider & the Webs – Do you Really Wanna?
Jenny Hoyston – I don't need 'em
Paradise Island – Monster Boogie
Electralane – The Invisible Dog
Vile Vile Creatures – Faux Feminism
Sound Laydee- Don't Stay Inside
Slits – Shoplifting
The Rotters – Japanese Punk
MIA – 20 Dollar
Chicks on Speed – Kaltes Klares Wasser
Love of Diagrams – Pace or the Patience
Slant 6 – Babydoll
Voodoo Queens – Princess of the Voodoo Beat
Kim Carnes – Bette Davis Eyes
Liliput – Terrified
Crass – Systematic Death
Posted 4388 days ago | By Katie |
Share this: del.icio.us Digg Technorati Newsvine Reddit Netscape StumbleUpon Google Bookmarks TwitThis
---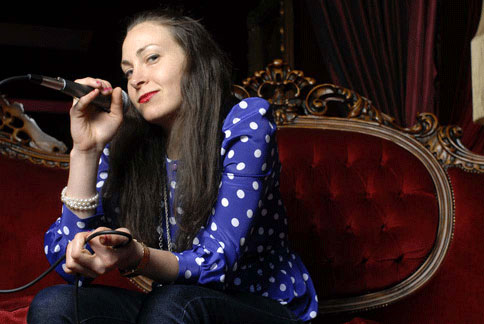 I've been meaning to write about Macromantics for a really long time, but have never felt like anything I write about her would do her justice or explain to everyone how amazing I think she is. But since I got her album "Moments in Movement" it's been the album I've listened to most (I've seriously listened to it in iTunes 70 times in nearly a year!) — and keep telling other people to buy.
Macromantics is an Australian Hip Hop artist, and is the first Hip Hop signing to what must be my favourite record label, Kill Rock Stars. She used to play guitar in Ben Lee's teenage band, Noise Addict, and it was through touring America with them that she discovered hip hop and started writing her own raps.
I've been struggling to describe what her music sounds like, but I guess if you can imagine Hip Hop made by a girl from Australia who is signed to Kill Rock Stars, maybe that will help! Maybe what is more helpful is her influences list on her MySpace: "Patti Smith, Lydia Lunch, Nas, Big Daddy Kane, Rakim, Dylan Thomas, Lester Bangs, O.D.B, Eve Libertine, Wu Tang Clan, Kathleen Hanna, Iggy Pop".
Even if you don't like the hip hop you see on tv or hear on the radio, still listen to this as it's a lot different to that, I mean I've read people compare her to Lady Sovereign (probably because they're both white females) but they are nothing alike. Macromantics music is totally unique, it's maybe a bit more unpredictable and twisted, there are even a couple of more dark songs on the album, but I think it's really her rapping style and the lyrics that do it for me. She raps about social and political issues — with a lot of references to war (one lyric being "bring home the troops this instant") and pop culture (she name checks Corey Haim, Lydia Lunch, Harpo Marx, Greta Garbo, Tom Waits, Susan Faludi, Britney and Cristina to name a few). Her rhymes just seem to work, they flow really well and the more I listen to the album the more I notice lines that I hadn't noticed before — it's all really clever and smart and funny and just references so many things.
As someone who is a fan of hip hop, and not just what I'd call indie or punk hip hop, it's really refreshing to have someone out there doing what she's doing, without all the bragging, guns, bitches and bling, but still keeping the political nature and smooth flows.
My favourite song always changes but at the moment it's track two — Moments In Movements!
Download "Scorch".
Download the video clip for "Apple Crumble".
Or watch videos on You Tube!

Moments In Movement

Physical

And here is an interview!
So, was there an album you fell in love with and listened to over and over last year? Tell us about it!
Posted 4388 days ago | By Katie |
Share this: del.icio.us Digg Technorati Newsvine Reddit Netscape StumbleUpon Google Bookmarks TwitThis
---
Glass Candy are coming to NZ!! They are one of my favourite bands, and one which I thought would NEVER come here. They are playing with CSS so no doubt it'll be an unfortunately packed event…oh well… There are two gigs: 25th & 26th March at the Kings Arms, tix going on sale at the end of the month.
Glass Candy's sound has changed quite a bit over the years, and I have to admit to preferring their older stuff like off their "Love Love Love" release, but possibly I will grow to love their latest sound just as much (often things take a while to get under my skin). Now, they kind of remind me of a (way more interesting) Goldfrapp, but there is still something to be said for going to see a band which at one point made a big impact on you, even if they sound a bit different today.
Glass Candy are from Portland (home of many awesome things), and is fronted by Ida No. They originally released two singles on K Records, and in 2003 released their first full length album, "Love Love Love" through Troubleman Unlimited (who have also put out releases by Les Georges Leningrad, Die Monitr Batss, Tracey and the Plastics, King Cobra and Erase Errata) followed by "Life After Sundown", and "Iko". Their latest album is 2007's "Beatbox", put out by Italians Do It Better, and I guess this is the album they will be mostly peforming songs from at the Auckland gig.
Previously known as Glass Candy and the Shattered Theatre, they have had a few members come and go, leaving Ida No and Johnny Jewel as the latest line up. They've been variously described as no wave, glam, punks with synths, neo disco and more, so basically I guess, are a band that is quite hard to pin down! I can't wait to see what they are like live.
Here's a video of them in 2002:
Glass Candy – Love Love Love

And here's a video from their 2007 release "Beatbox" (featuring a movie star no less)
Glass Candy – Digital Versicolour

Posted 4393 days ago | By Melissa |
Share this: del.icio.us Digg Technorati Newsvine Reddit Netscape StumbleUpon Google Bookmarks TwitThis
---
Here's the playlist for last Friday's show on Fleet Fm . The first hour was me, the second hour was Kat. And if you want to listen to some of it (we didn't manage to catch it all), scroll down a couple of entries and Katie has put a link to it!
Melissa:
Toyboat – Yoko Ono w/ Antony & Hahn Rowe
New Life – Numbers
Trixie's Star – Helium
Beat (Health, Life & Fire) – Thao Nguyen
Dirty Toucher – Blue Minkies
Centre Where Sight – XBXRX
Smells Like Queer Spirit – Pansy Division
Nite Nurses – Glass Candy
Tenant – Siouxsie and the Banshees
10, 9, 8, 7, 6, 5, 4 – Slumber Party
Chart Yr Cycle – Party Weirdo
Holiday Vacation – The Coolies
Fetu & You – Newtown
Boyfriend Application – FInally Punk
Darque Tan – Gravy Train!!!!
Grip Like a Vice – The Go! Team
Track 4 – The Carnys (can't remember name of the song)
Shit Day – Wet Dog
I Cannot See – Deathline
Toilet – Drunk Granny (I think, it could've been another track now I think of it)
Drama and Games- Cat Call
Dark Sally – The Need
Kat:
Robocat – Teenagers in Tokyo
Sleep Away Your Troubles – The Softies
Manatee – Finally Punk
Time Expired – Slant 6
She's a Winner – The CeBe barns Band
Lightning Rod for Jesus – Beth Ditto & Calvin Johnson
Take on Me – Team Dresch
Everything is Christmas With You – Beth Ditto
What the Paper's Didn't Say – Tribe 8
Musical Fanzine – Team Dresch
Sam – Need
Missle – Finally Punk
Thirty-Thirty Vision – Slant 6
107 – Team Dresch
Are U That Somebody – Gossip
Militia – Cypher in the Snow
Not a Jerk – Longstocking
Double Feature – Jenna Riot
Salamander – Kaia Wilson
Re:Television – Joey Casio
Superinfectious – Miyax
No, You Don't Even Know – the Butchies
Straight Boys – Team Gina
Un Deux Trois Cat! – Third Sex
Posted 4395 days ago | By Melissa |
Share this: del.icio.us Digg Technorati Newsvine Reddit Netscape StumbleUpon Google Bookmarks TwitThis
---