Yesterday was the first time in ages that I've done a show on the radio. I'm taking over from my friend Michael while he's away for the summer. I think I might be alternating with Alex, and I guess sometimes we'll do shows together – I think she plays pretty different music to me though, so it's not the "Pony 4 Honey" show that I used to do, but my songs will be pretty similar to the ones I did on that show. Dude, it was quite stressful for the first hour! But I think I've got it sussed now, hopefully next time will go more smoothly.
So! If you want to listen, tune into Fleet FM 88.3 if you live in inner city Auckland, and if you don't, you can stream it on the web at www.fleetfm.co.nz. The show is from 11am-1pm, Fridays.
Here is the playlist from yesterday (I hope to start recording my shows, and we'll upload it here). Tui and her 1 yr old Lola visited me during the show, and Lola made a special "shout out" on the microphone during the PiL song…she's gonna be a rockstar/dj/superstar for sure. And thanks Linden!! of course, cos he put up with my meltdown and then texted me to tell me the show sounded great! And to Michael who let me borrow his show!
Sea Shaped Stone – Ghost Club
Kim Gordon & the Arthur Doyle Handcream – Sonic Youth
Hatchet – Low
Return of the Rock and Roll – the Peechees
Shit Day – Wet Dog
Mister Hypnotist – Spider and the Webs
Journey – Delta 5
Hopscotch – Huggy Bear
Six Secs – Cobra Killer
Dirty Toucher – Blue Minkies
Warrior in Woolworths – X Ray Spex
Nite Nurses – Glass Candy
Nowhere by Mir – Nicolle Meyer
Honeyland – Pam Hogg
The Good Wife – New England Roses
Fire Sign – The Gossip
Step Away – Paradise Island
My Best Kiss – Huggy Bear
Fuck Dudes – Kiosk
Faux Feminism – Vile Vile Creatures
Li'l Mommy – The Fakes
Faux Feminist – Peepholes
We Had Tails in the Old Days – Melt Banana
Kill Yr Belly – Hang on the Box
Incognito – Tina Weymouth
20 Dollar – M.I.A
Death Disco – PiL
Love Und Romance – The Slits
Shelter Two – The Evens
No Love Lost – Joy Division
What the Fuck Missile – Finally Punk
Speedometer – Rythym King and her Friends
Firefly – Heavens to Betsy
Credit in the Straight World – Hole
I Knew – Comanechi
Survive – The Bags
No Success – Atari Teenage Riot
Dracula Mountain – Lightening Bolt
C30 C60 C90 Anda! – Bow Wow Wow
Panic of the Square – Tobi Vail
Go! – Tones on Tail
Bob Hope Takes Risks – Rip Rig and Panic
Posted 4413 days ago | By Melissa |
Share this: del.icio.us Digg Technorati Newsvine Reddit Netscape StumbleUpon Google Bookmarks TwitThis
---
So previously I'd mentioned I'd been reading this book Riot Grrrl: revolution girl style now!, which was put out a couple of months ago by Black Dog Publishing. This book is made up of articles wrtten by a bunch of different authors who were around during the Riot Grrrl heydey, or who are involved in similar things these days, and so the articles are a mixture of their own experiences and the oral histories of other women involved, such as Allison Wolfe, Tobi Vail, Layla Gibbon and more.
One of the most striking things for me about this book was its UK slant. Up until now, most of the stuff that I've read about Riot Grrrl comes from the US, for obvious reasons I guess, but sometimes it feels like you are reading the same information over and over, and while I love to read about Riot Grrrl regardless, I was wondering if this book would just be another one of those, so was pleasantly surprised to find that wasn't the case. Obviously, Huggy Bear plays a big part but you also get to hear about various UK distros, fanzines and feminist spaces.
Also interesting were the discussions around the inspirations and off shoots of Riot Grrrl, particularly its connection with twee. I'd sort of assumed they'd discuss the development of feminist electronic and experimental music and stuff, and while Le Tigre was the starting point for the final chapter, it was mostly in terms of them being artists and the lyrics to Hot Topic and Sadie Benning's films, and other bands like Chicks on Speed, Erase Errata, Kevin Blechdom etc, which to me seemed like logical follow ons weren't mentioned at all. So instead of those kinds of bands, the girl group genre, populated with bands like the Ronettes and later the Pipettes, garage music like thee Headcoatees and the Gossip, and the twee stuff such as Calvin Johnson's projects in the States and bands like Belle and Sebastian in the UK, are added to the family tree. The twee connection was obvious really, I guess, with the whole Riot Grrrl love of DIY and tapes and cute letters etc, and perhaps the electronic and experimental stuff stemmed more directly from post punk, rather than Riot Grrrl, though there is that more direct political edge to bands such as CoS that I'm sure owes more to Riot Grrrl than the vaguer post punk genre…anyway, that's another story! So once again with this book I was pleasantly surprised to be reading about Riot Grrrl from an angle which I'd not really considered before.
This book is visually interesting too, with colour photos and pictures of zines and posters throughout, including segments of Jigsaw and the Huggy Bear zines, riot grrrl graffiti perpertrated by the author of one of the chapters and art ranging from Judy Chicago to Julie Doucet, plus a timeline at the back and an intro by Beth Ditto!
This book is quite sprawling in lots of ways. Each chapter seems to have a vague theme, but ultimately it is a collection of each writer's different take on the Riot Grrrl scene, then and now, and therefore avoids canonising any one band, or promoting any one version of events. It certainly leaves plenty of room for another book to be written, perhaps by Americans, or perhaps by women from another part of the world, because as this book shows, Riot Grrrl was more than just Bikini Kill, and it leaves you wondering what else was going on in other parts of the world (though it does discuss Riot Grrrl in some European countries to a certain extent), and makes you want to join the conversation and compile a book on Riot Grrrl in NZ! Go on, you know you want to!
You will soon be able to order this book from www.cherrybombcomics.co.nz
Posted 4413 days ago | By Melissa |
Share this: del.icio.us Digg Technorati Newsvine Reddit Netscape StumbleUpon Google Bookmarks TwitThis
---
Woah I am suddenly posting heaps! Maybe it's because I've finished my degree and need something to do so I can continue avoiding the real world. I just stumbled across this on the internet, it's a funny video featuring Carrie Brownstein from Sleater-Kinney and Fred Armisen about writing a song. At the end of the video is a cameo by Corin Tucker and her husband Lance Bangs, and it appears that they're having another baby / had another baby! I don't know how to embed the video so you'll have to visit the website: thunderant.com. It's worth having a look through the site, I just had a quick look and there are more videos etc. I'm gonna watch them now!
Edit: okay I have been watching more, it is essential you go visit the site and watch the videos now, they're are hilarious!
Posted 4420 days ago | By Katie |
Share this: del.icio.us Digg Technorati Newsvine Reddit Netscape StumbleUpon Google Bookmarks TwitThis
---
So I was walking home and listening to Sleater-Kinney on my iPod and a live version of "I wanna be your Joey Ramone" came on. I think I like this particular live version more than the original! Instead of singing the line "I wanna be your Thurston Moore" they sing "I wanna be your Mary Timony"! But I can't decipher the next line, so I can't tell you about that. And for some reason I just love the way Carrie says "rock and roll", to me it seems as if she's saying it's rock AND roll haha. I guess the song could be about a few things, maybe even about gender in rock music, and how girls are often idolising boys in bands. But is it also some kind of response or reference to the Ramones "I wanna be your boyfriend"? If it is, then what does that make CSS's version they play live? If you don't know, they often played their own mash-up version of J-Lo's "Jenny from the block" and "I wanna be your Joey Ramone", called "I wanna be your J-Lo". Is it a response to a response, covering how many generations of underground and pop music? How post modern, haha!
The Ramones — I wanna be your boyfriend, live in Paris 1980

Sleater-Kinney — I wanna be your Joey Ramone, live at CBGB's, 1997

Sleater-Kinney — I wanna be your Joey Ramone, live at their second to last show, 2006 (I'm posting two versions because it's interesting to see how the song has changed over the years)

CSS — I wanna be your J-Lo (It was hard to find a good quality version on You Tube, but if you can be bothered looking for more than two minutes you can probably find a better one)

And here is the mp3 of the live version of I wanna be your Joey Ramone that I love you much! Click here to download it!
And on a kind of related topic, Sonic Youth are coming to New Zealand, playing the Bruce Mason Theatre in Auckland on the 16th of February. They're going to be playing the Daydream Nation album in it's entirity! I hope I can afford a ticket, PJ Harvey is also playing around the same time and tickets are expensive. I should probably go see Sonic Youth since I've never seen them live and I've seen PJ Harvey a few times.
And so, to finish up this post, here is Sonic Youth covering The Ramones "Beat on the brat"! I couldn't put a download link to this one, so you'll have to visit their MySpace page to have a listen (scroll down to the bottom of the music player thingy). I'm sure I could go on forever, I love pop culture and songs that reference other songs! On the topic of "I wanna be your…" I thought I'd leave out Avril Lavigne, but if you didn't know how she stole the chorus from the Rubinoo's, have a look at this and tell me what you think (aah I love You Tube in case no one has noticed!):

Posted 4420 days ago | By Katie |
Share this: del.icio.us Digg Technorati Newsvine Reddit Netscape StumbleUpon Google Bookmarks TwitThis
---
Carrie Brownstein from Sleater-Kinney has written a review of the game Rock Band, in her usual hilarious but insightful style. It turns out that people from real rock bands may not be qualified for being video game rock stars. Read it here: www.slate.com/id/2177432.
And here are some photos of Carrie being a real rock star: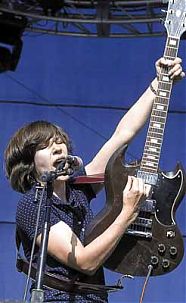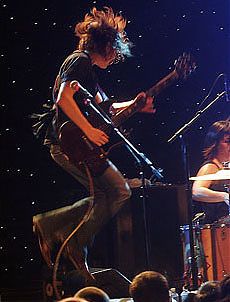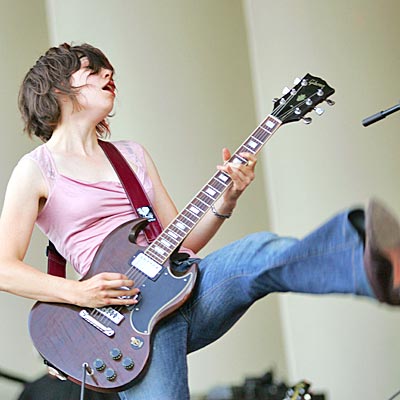 Posted 4421 days ago | By Katie |
Share this: del.icio.us Digg Technorati Newsvine Reddit Netscape StumbleUpon Google Bookmarks TwitThis
---